Rehabilitation and electrotherapy
Rehabilitation restores impaired muscular and skeletal functions. We use various methods and tools, both manual and mechanical. For the application of physical therapy and electrotherapy, our St. Joseph's Spa facilities are equipped with state-of-the-art BTL equipment.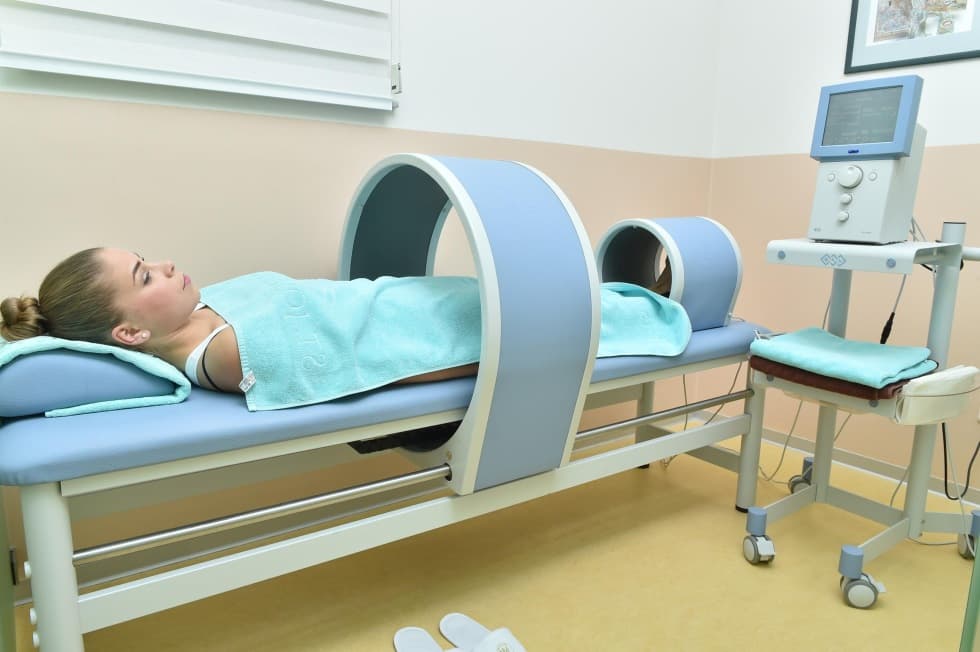 REHABILITATION
For proper function of the muscular and skeletal systems
Proper use of medical rehabilitation methods improves and improves the muscular and skeletal systems, relieves pain, reduces muscle fatigue and can improve memory skills.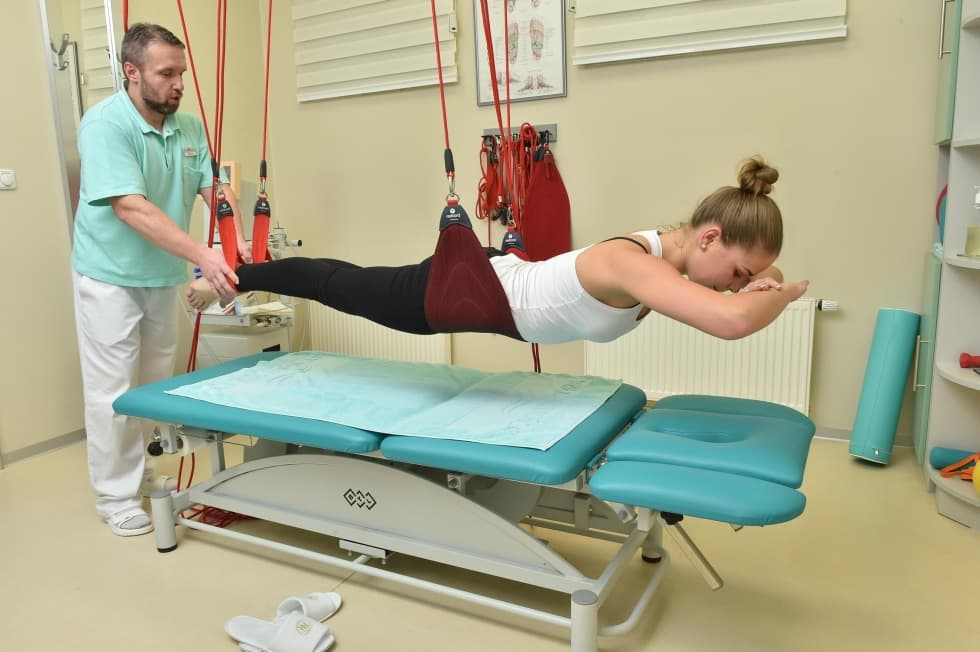 UPON DOCTOR RECOMMENDATION
Rehabilitation
Most of the rehabilitation treatments we provide can only be completed on the basis of a medical examination.
EXERCISE USING YOUR OWN BODY WEIGHT
Therapy Master
A special form of individual therapeutic physical bodywork. The client is active, they work with the weight of their own body, which employs a change of centre of gravity to ease or increase the difficulty of each exercise.
THERAPEUTIC BODYWORK
Individual or group
The most important and specialised method of rehabilitation. Mutual trust and cooperation are necessary for optimum results. We offer therapeutic group and individual bodywork exercise.
THERAPEUTIC EXERCISE IN WATER
Therapeutic exercise in the pool
Combines the benefits of exercise and warm water. It helps you to relax, water relieves joint pain and makes exercise easier.
REFLEXIVE THERAPY
Reflexology massage
Highly specialised rehabilitation treatment performed by our top physiotherapists. Reflexology divides the human body into reflex zones and determines reflex points, which after compression alleviate pain and even restore the natural and proper functions of ailing organs.
REFLEXIVE ZONES
Reflexology foot massage
Uses pressure and massage of reflex zones of the foot with the corresponding organs of the body. The combination, intensity and sequence of massages are determined – it acts on both feet and the reaction is monitored during the reflex massage and in the period between treatments.
GAS INJECTIONS
Pneumopuncture
It is also a reflex method – it uses a combination of the effect of acupuncture and local application of CO2 subcutaneously, i.e., via gas injections. Painful syndromes and functional disorders are relieved.
MACHINE TRACTION THERAPY
Traction
Traction therapy consists of stretching in the axis of the joint and is performed using a special device, where not only the tension force and the duration of the whole treatment are set, but also the dynamic tension and the rest interval.
THERAPEUTIC LASER BEAMS
Laser
The laser emits electromagnetic radiation in the form of a beam that is polarised, coherent and minimally diverging. Its effects are mainly stimulative, analgetic and anti-inflammatory.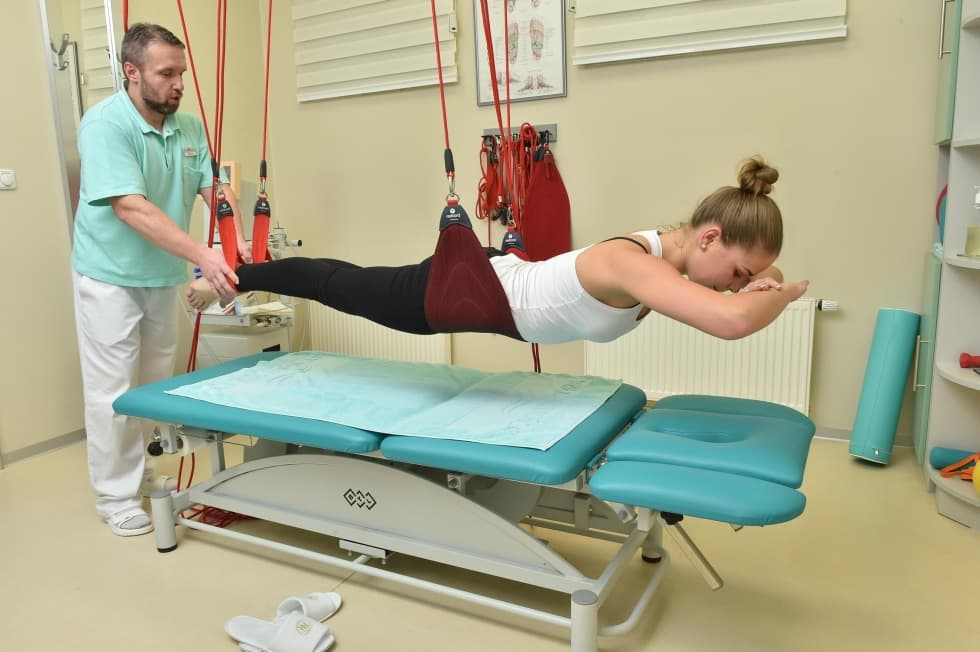 ELECTRICITY TREATMENT
Electrotherapy
Electrotherapy uses electric current, magnetic field or mechanical energy in the form of ultrasound or shock wave for medical purposes. These procedures can only be completed on the basis of a medical examination.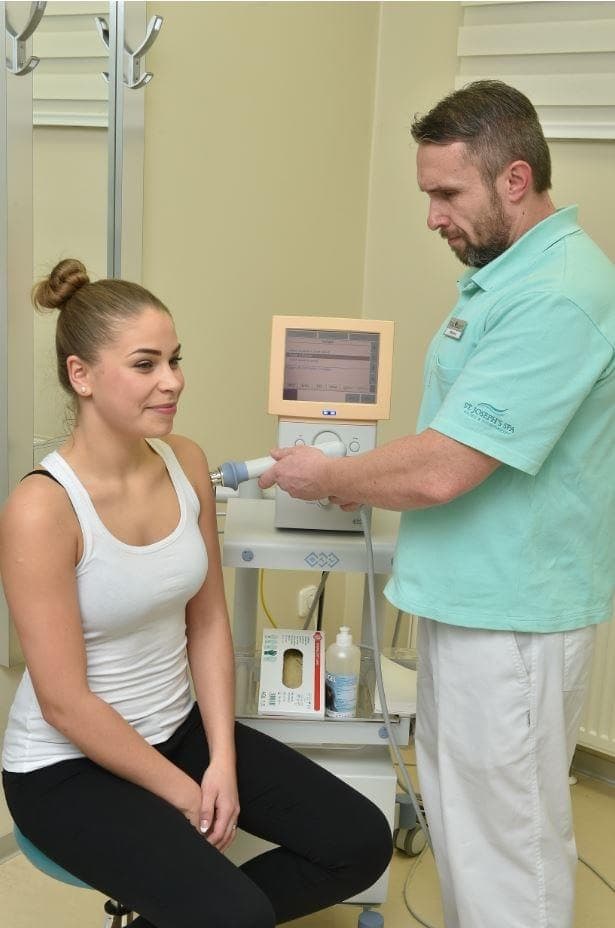 magnet
Magnetic therapy
It accelerates healing, acts against pain and has an anti-inflammatory effect.
NON-INVASIVE LASER
Laser
Non-invasive laser is mainly used for stimulation, analgesic and anti-inflammatory effect. It also has a bactericidal, viricidal, anti-edematous and vasodilatory effect.
THERAPEUTIC ULTRASOUND
Ultrasound
Therapeutic ultrasound involves mechanical waves and heat generation deep inside the tissues. Improves blood circulation and tissue nutrition, acts against pain.
BIOTRONIC LAMP
Biolamp
A biolamp, like a laser, emits polarised radiation. It has the ability to specifically penetrate and spread into the deeper structures of tissues.
FOUR CHAMBER GALVANIC BATH
Hydrogalvan therapy
An electro treatment in which a direct galvanic current acts on the body in water. It helps with post-traumatic conditions, diseases of arteries, veins and lymphatic vessels, ischemic disease, inflammatory nerve diseases and others.
SHOCKWAVE
Shockwave
It is successfully used to treat tennis elbow, heel spurs, painful shoulder and carpal tunnel syndrome, Achilles tendonitis and others.
ELECTROTHERAPY
Elektrotherapy
Electrotherapy uses electric current of various frequencies, intensities and polarities to heal. It relieves muscle tension, reduces pain, improves blood circulation and counteracts swelling.