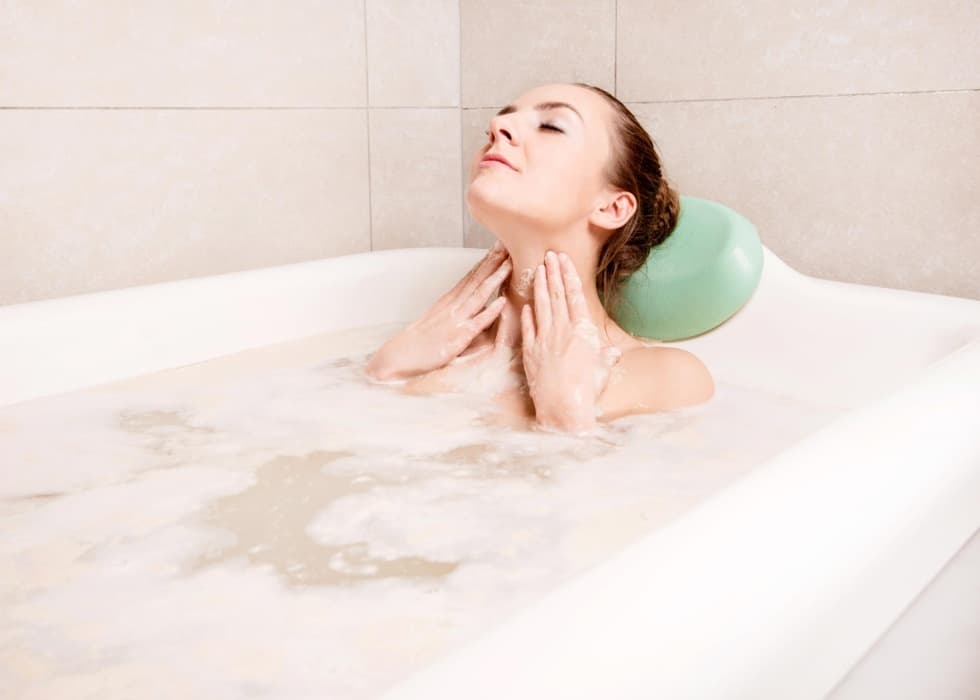 DIRECTLY FROM THE SPRING
Hot spring bath
Mineral spring water, a natural healing source, is used to prepare the bath.
CO2 BATH
Carbonated Bath
Tiny bubbles of CO2 settle on the skin, penetrating the skin into the body. It slows down heart activity, lowers blood pressure and improves blood circulation.
OATMEAL
Oatmeal bath
The bath contributes to overall relaxation and regeneration. It is suitable for children and adults with very atopic and dry skin.
Pearl
Pearl bubble bath
Combines perfect relaxation in water with a gentle massage with air bubbles.
IODINE-BROMINE
Iodine-bromine bath
Helps with post-traumatic conditions of the muscular and skeletal systems, gynaecological diseases, hypertension, rheumatic diseases, osteoarthritis, Bechterew's disease, respiratory and skin diseases.
WITH PEAT
Peat bath
A hyperthermic treatment, which is especially suitable for rheumatic diseases.
FOR PLEASANT RELAXATION
Underwater massage
It combines the effects of a warm bath and massage in a water environment and relieves back and joint pain. This is a pleasant massage, where the client lies in a bath filled with water at a temperature of 37°C.
MASSAGE BATH
Hydroxeur
Massage and stimulation of individual points located on the back, lower and upper limbs. It is possible to stimulate a specific area – such as the lower limbs, the whole body, etc., with a stream of water in a water bath.
MASSAGE BATH
Vortex Flow
The temperature of the bath is 34-37°C, it is a whirlpool bath, similar to a hydroxide, the massage is not gradual, but all-at-once whole-body.
Classic
Classic partial massage
The general effect of the massage is to stimulate the receptors, to support metabolism, trophics and circulation in the tissues of the massaged area. It alleviates swelling, effusions and haematoma, affects muscle tone in terms of reduction and increase, it can also disrupt tissue adhesions.
REFLEXIVE THERAPY
Reflexology massage
Highly specialised rehabilitation treatment performed by our top physiotherapists. Reflexology divides the human body into reflex zones and the determines reflex points, which after compression alleviate pain and even restore the natural and proper functions of ailing organs.
THERAPEUTIC EXERCISE
Individual therapeutic exercise
The most important and specialised method of rehabilitation. Mutual trust and cooperation are necessary for an optimum result. We offer therapeutic group and individual bodywork exercise.
THERAPEUTIC EXERCISE IN WATER
Therapeutic exercise in the pool
Combines the benefits of exercise and submersion in warm water. It helps to relax the body, water relieves the joints and makes exercising easier.
PEAT
Peat body wrap
It relaxes and regenerates, the peat can gradually yet deeply warm the body.
FOR CHILDREN AND PREGNANT WOMEN
Children's or pregnancy massage
We aren't forgetting children and expectant mothers. We have created special massages for them, taking into account their condition and options.